Tab Sound Design Updates Facility

Tucked away in West Hills, California, Tab Sound Design is owned and operated by William Tabanou. Catering to a wide variety of film and music clientele, Tab Sound Design is a full-service professional audio post production facility. Audio post clients include Sony Pictures, History Channel, Lakeshore Entertainment, O Entertainment, and many more. Music clients have included Avril Lavigne, Michelle Branch, Silversun Pickups, The Smithereens, and Coolio. In addition to running the studio, William is also a sound designer, mixer, music producer and musician.
A couple years ago, the Tab Sound Design studio facility had an updated construction buildout designed by our associate, Jerry Steckling. The updated buildout looks very professional and sounds great. But it was now time to upgrade the equipment. Audio Perception was brought in for the new equipment integration. The studio is Pro Tools HD based, but it was time to make the jump to Avid Pro Tools HDX and upgrade to the newest Apple MacPro computer. In addition, William's old Digidesign Control 24 control surface would be replaced with a new Avid S3 control surface. The S3 is much more compact and the desk had been custom built to the exact dimensions of the Control 24. While the S3 would fit in the desk where the Control 24 used to reside, it did not look very presentable due to all the open space that used to be taken up by the Control 24.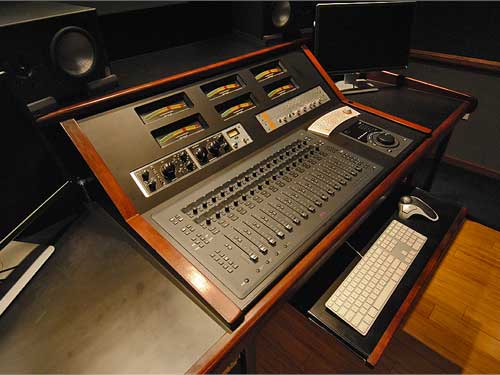 Audio Perception's David Knauer came up with an ingenious way to reuse the space left behind the Control 24 removal. David designed a custom wood fitting that was fabricated by our good friends at AZ Studio Workstations to the dimensions of the Control 24, with cutouts to house the S3 controller, as well as a Dangerous ST Remote and a set Dorrough Meters for surround level metering. The custom wood fitting worked great and looks like it had always been part of the desk. Will is thrilled with all the updates and is very happy to be up and running with all the new gear.