WorkFlows of the Pros - SCL Seminar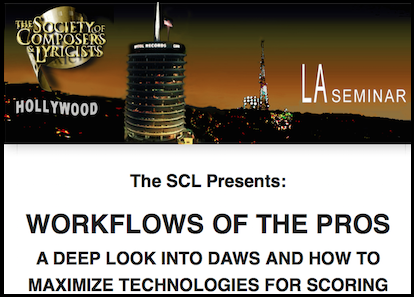 On August 26th, The Society of Composers and Lyricists presented "WorkFlows of the Pros", an educational seminar in Los Angeles at the American Film Institute's Mark Goodson Theater. Hosting the event was SCL's Joel Douek, who is a very talented and successful composer in his own right. The guest speaker for the panel was Trevor Morris. Trevor is an acclaimed, Emmy award winning film and television composer. His film credits include Olympus Has Fallen, Immortals, Scorpion King: Book of the Dead, The Marine 2, The Hills Have Eyes 2 and many, many more. He also composed for the television series The Tudors. In addition, the panel included both David Knauer and Jason Atkinson of Audio Perception. The seminar was webcast in realtime for SCL members, and was also recorded for members to view online afterward.
Having worked with Joel on a previous SCL Seminar back in 2011, we were looking forward to participating in another. The primary focus of the seminar, "WorkFlows of the Pros", was to present advanced compositional and signal work flows to attendees, whose technical knowledge and skills spanned a range from novice to advanced.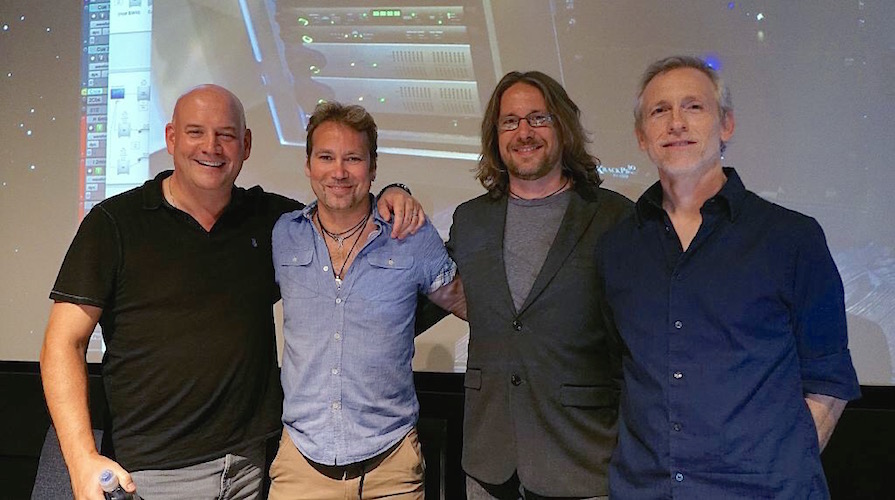 One of the primary topics was that of a "split system", which consists of one computer system for composing and a separate computer system for recording the final output into stems for delivery to the final dub mix of the film or television show. Other topics included session prep for scoring stage recording dates and a general discussion of deeper, more advanced DAW concepts and integrating Vienna Ensemble Pro Server. The discussion was somewhat agnostic toward DAW applications, and was more generalized in theory and practice.
The hall was full to capacity and all those in attendance seemed very interested during the entirety of the seminar, and were very enthusiastic about it afterward. All in all, the seminar was a resounding success and we were thrilled to be a part of it. If you are interested in joining the SCL, it's a great organization offering valuable resources and networking opportunities for composers of all levels. You'll also have access to archived video of previous seminars, which are always very insightful and educational.