Vie 2 Cycling Sounds Amazing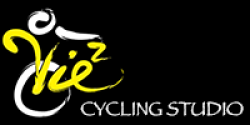 And now for something a bit different.... Audio Perception is known for their work in the audio realm, but what about the fitness world? Vie 2 Cycling's owner Chuck Schwartz set out to design the best sounding spinning studio in Los Angeles. After spending countless days working out in gyms with bad sound systems, Chuck decided to open his own spinning gym, and was inspired to create a fitness space with the best sound,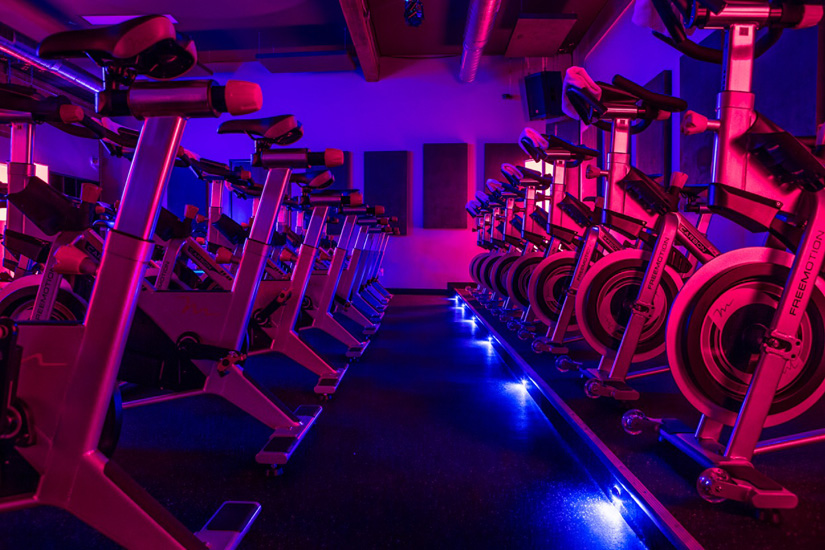 as well as the most hi-tech equipment. This was a big challenge since a gym is not known as the most acoustically sound space to work in. In addition, the new location had an adjoining wall with another business, and with the large speakers and subwoofer planned, Chuck wanted to make sure that the neighbors would not be bothered.
For the first phase of the project, we had to test the wall between the two spaces to see how much sound was getting through and what frequency the leakage was at. To do this, we had to set up a speaker system in one room and then place mics in the adjoining business. We played a series of test tones and music to measure the leakage. We analyzed the data that was captured and created a report that Chuck gave to his builder with requirements,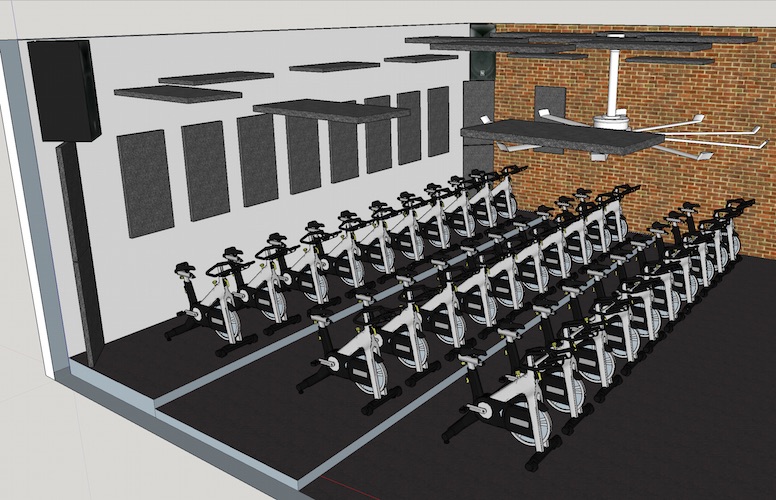 specs, and suggestions on the construction that would be required to give the amount of sound reduction he was looking for. We also consulted on wall treatments and the sound system requirements. For phase 2, AP designed a wall panel treatment layout in our 3D software, so Chuck could see what the room would look like when completed. Then, with the design approved, we built 40 custom wall and ceiling panels, as well as two corner bass traps. Lastly, we helped install the panels and the massive sound system consisting of four Electro Voice ETX-12P speakers, and one Electro Voice ETX-15SP subwoofer.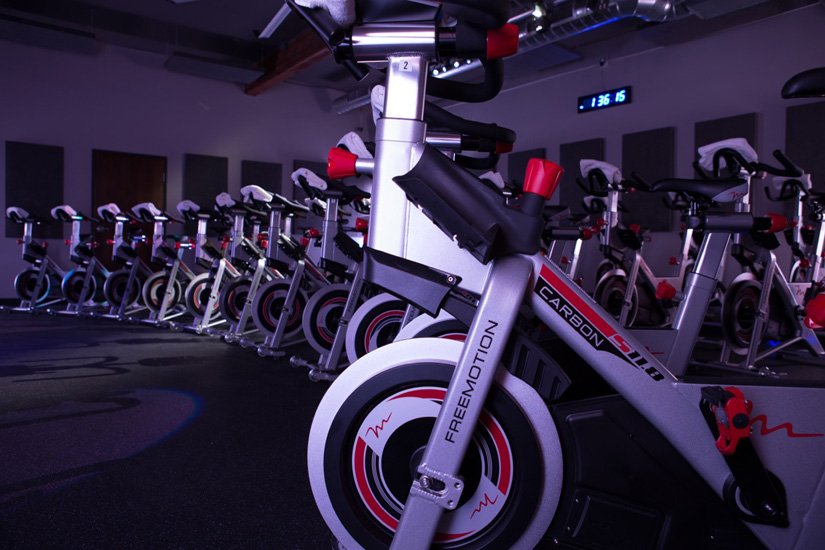 With the sound system and panels in place, Chuck moved forward installing multiple video screens, custom lighting, and finally, the latest in high tech spinning bikes equipped with performance consoles. The bike's console monitors the ride and displays performance specific to that person. In addition to displaying more standard data such as time, distance, cadence (pedal revolutions/minute), total calories and heart rate, these bikes and consoles also measure and display real power output in watts. All of this data is displayed on huge video screens for all 30 bikes! The data is also stored and viewable on their website.