With the start of the new year comes the 2015 Winter NAMM Show. It's the time of year when many attendees bask in the mild Southern California winter season after leaving behind freezing temps back home. We look forward to running into old friends and making new ones. There are so many people in attendance - you never know who you'll run into.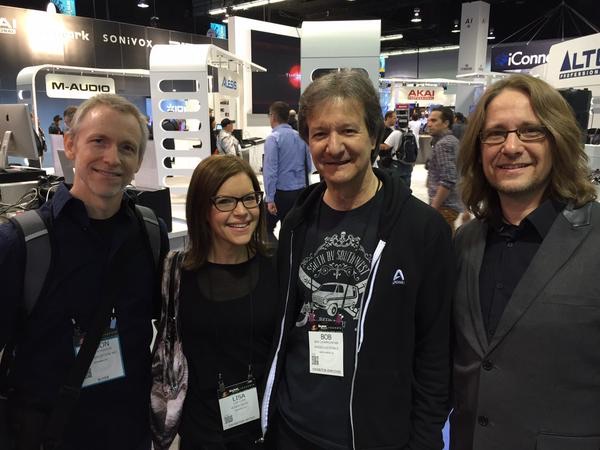 Speaking of running into old friends, while wandering the endless aisles, we ran into our friend Lisa Loeb, who introduced us to her friend, Bob Clearmountain.
Right across from Disneyland, the Anaheim Convention Center once again hosted the big four day event. Over 1,600 exhibitors, manufacturers from almost every continent attended. Being a mix of traditional and cutting edge, there were a large variety of brass, woodwind, strings and percussion manufacturers showing their latest instruments, as well as music technology developers showing their latest gear and software. The 2015 NAMM Show did not disappoint. Avid announced Pro Tools 12 as well as the free Pro Tools First, along with new Cloud Collaboration tools. MOTU announced the 112D audio interface, based on the AVB networking technology. The 112D offers extensive digital audio I/O and expandability via other AVB interfaces. Moog Music, Inc. announced plans for a limited manufacturing run of three of their most sought after large format modular synthesizers - the System 55, System 35 and the Model 15. Universal Audio showed their new Thunderbolt Apollo series audio interfaces along with their UAD Software v8, which adds many new features, as well as some new plugins. Spectrasonics announced the long awaited Omnisphere version 2, which has a release date of April 30th. Korg, in conjunction with Arp Instruments, revived the classic Arp Odyssey analog synth. With a slightly smaller footprint and some new modern features, it is designed to replicate the vintage sound of the original Odyssey duophonic synthesizer.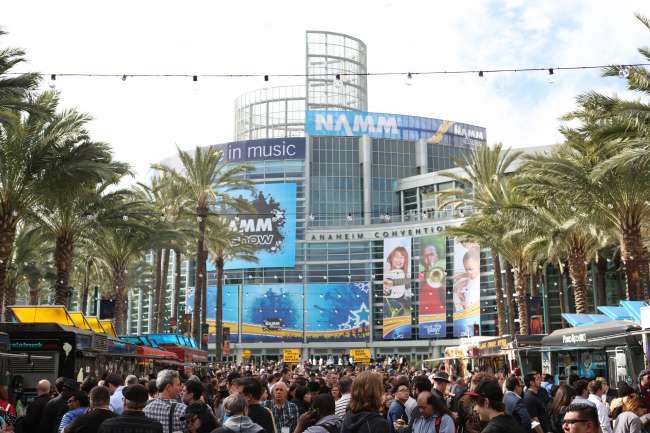 NAMM also had the annual TEC awards, recognizing the achievements of audio professionals and legendary musicians and songwriters. This year, the TEC Les Paul Award was given to Todd Rundgren.
The NAMM Show is about more than just the musicians and newest instruments or gear. A major focus of the event is music education in public schools and for promoting ways to bring music to kids of all ages. There were also classes and seminars for music store owners, managers, promoters, and other people in the music business. NAMM also cares about your health with free hearing screenings to make sure you haven't blown yourself out with years of loud speakers. It was another excellent NAMM Show this year. We at Audio Perception are already looking forward to next year!