Thunder makes a big noise at Jump!

Thunder doesn't only happen when it's raining! Just ask Art Wright, owner of Thunder Music & Sound Design, an audio post production studio now located in the Blackwelder complex in the Culver City Arts District. Art was planning to move Thunder into the Jump LA Editorial building and needed a complete room buildout with a spacious control room and a large, comfortable isolation booth.
The project had already begun when Audio Perception was brought in to take it over. The exterior walls were completed and some of the interior wall and detail work had been started. AP's David Knauer met with Art to consult and assume the role of Project Manager. There was a lot to do still. Jerry Steckling of JSX audio was brought in to consult on the interior acoustical design and buildout. We brought in general contractors for the interior buildout, electrical wiring, acoustical treatments installation, as well the building of custom sound control devices like diffusers, bass traps, and a ceiling cloud.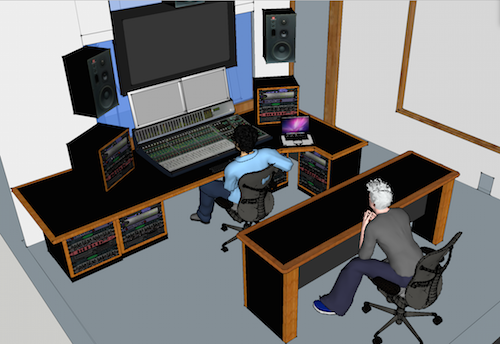 Along the way, there were many infrastructure challenges encountered. We had to make structural changes to the control room window, as well as the control room door and doorway. In addition to all the infrastructure work, Art also wanted custom furniture for the new room. He wanted it to be very functional and practical, with a professional and elegant appearance. David and Art came up with a furniture design in a 3D design program, and our highly skilled craftsmen at AZ Studio Workstations went to work on building the main desk and the producer's desk. This process would take several weeks to complete.
With the buildout underway, Audio Perception now had to plan for wiring and gear integration. Most of the gear from Art's previous studio would be moved to the new location.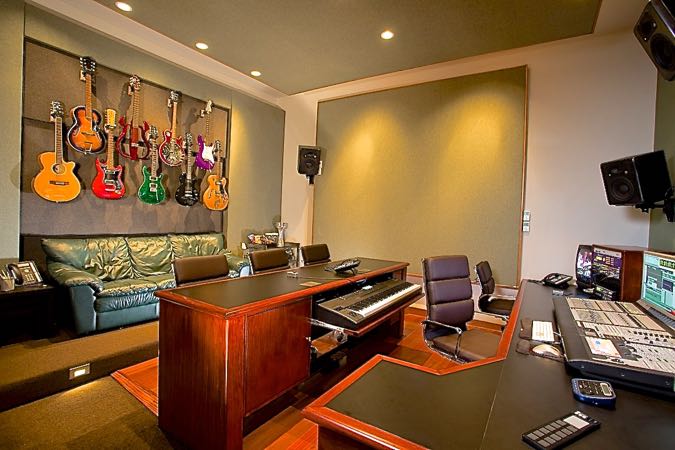 Gear coming to the new room included a Pro Tools HD3 System, various outboard mic preamps, phone patch and ISDN for voice over, TT patch bays, and a Digidesign Pro Control, consisting of a Fader Pack, Edit Pack, and the Main Unit. The patch bays were from the previous studio incarnation and were soldered on the rear. Repurposing the patch bays took a fair amount of time but was necessary to accommodate much of the equipment placement, which had changed. It took a fair amount of planning to repurpose the TT bays and existing cabling, but the desired result was accomplished.
It was a fairly long process to get from the point of taking over the project, to the studio being complete and up and running, but it turned out exactly as planned. It sounds great, looks great, and Art is busy making his clients happy and repeat customers.