The 2014 Taxi Road Rally!

This past November 6-9th, Audio Perception attended the 2014 Taxi Road Rally at The Westin Los Angeles Airport Hotel. We had a great time last year at the 2013 event and we met a lot of talented attendees. This year we were looking forward to our second turn as a Road Rally exhibitor. Once again, scattered throughout the hotel are many, many meeting rooms where a long list of Driver's Ed classes are held. Driver's Ed classes, which are classes that target a specific topic relevant to the art and business of writing and selling songs, are one of many benefits of attending a Taxi Road Rally. Driver's Ed teachers include Ronan Chris Murphy, Steven Memel, Mike Greene, Michael Lloyd, Jan Linder-Koda, Jai Josefs, Gilli Moon, Fett, Michael Lloyd, Hans Dekline, Clare McLeod, Ralph Murphy and more. Topics included music licensing, production tracks and music libraries, songwriting, building websites, singing, marketing, music production and mixing, networking, technology, software, mastering, and much more. The 2014 Taxi Lifetime Achievement Award honoree was Maureen Crowe. Maureen has had a long and successful career in music supervision. She co-founded the Guild of Music Supervisors.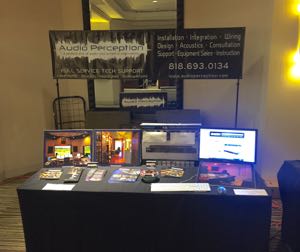 Michael Laskow sat down with Maureen for the Keynote interview, where she shared her wisdom and many years of experience in music supervising with a packed room.
This year, in addition to our exhibitor table, David Knauer and Jason Atkinson of Audio Perception signed up to host their first Driver's Ed class. We hosted "Studio Tech for the Songwriter, Musician or Studio Owner," covering topics such as power management, data storage and backup. For power management, David covered topics including AC problems (lighting, low voltage, spikes/surges, grounding, and noise), line conditioning/noise suppression and voltage regulation, balanced power, and battery backups. For data storage and backups, Jason covered topics including backup types (cloning, incremental backups, archival), software for backups, and a recommended backup plan. Our first Driver's Ed class went really well and all attendees seemed very enthusiastic about the information they had learned. We look forward to more Taxi Road Rallies and more opportunities to share important information with the talented and creative songwriters and artists in attendance.
For more information, please visit taxi.com.
Taxi Road Rally 2014