Brian Malouf Gets a HDX Upgrade and New Machine Room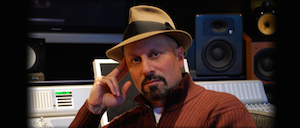 With a growing client list spanning from the mid-1980s to today, Brian Malouf has had a long and successful career in the music business. Brian's audio engineering clientele include The Jacksons, Michael Jackson, Madonna, Starship, Al Jarreau, Pete Townsend, Julian Lennon, Seal, Celine Dion, Pearl Jam, Lisa Loeb, Pink, Pharrell Williams, Queen, Everclear and many more. From 1994 to 2005, Brian was Vice-President, A&R, for RCA Records in New York. In addition, Brian is an accomplished musician, having played drums in various bands, and served as the first-chair symphonic percussionist at Cal State Northridge while attending college there.
This year, Brain was ready to expand his studio. The upgrade included some construction to the building to add a client area/kitchen, a bathroom, and a much needed machine room to eliminate the quiet rack in the control room which took up a lot of space. In addition, Brian was ready to upgrade his old Pro Tools HD hardware to the new AVID HDX hardware. Audio Perception was brought in to perform the Pro Tools upgrade and move the gear from the control room into the new machine room. First, we preformed the Avid HDX/Pro Tools 11HD upgrade, which included a more recent MacPro, and getting all of Brian's plugins, software, the operating system, etc. up-to-date. Once we had the HDX system up and running, we went to work on the new machine room. A server-type rack was brought in to vertically install all the gear in. We needed a fair amount of height due to the small size of the machine room. In addition to moving all the Avid hardware, the Apple MacPro computer, and a few other miscellaneous audio items, we also had to run all relevant audio cabling under the floor into the machine room. Last, we had to make some minor changes to the TT patch bays, changing or rearranging some of the patch points, and printing new labels.
With the new HDX rig up and running and the new machine room completed and operational, Brian is thrilled with the new setup and with the square footage he's regained in his control room now that the quiet rack has been eliminated.
http://www.allmusic.com/artist/brian-malouf-mn0000519178/credits