2014 Pot Luck Audio Convention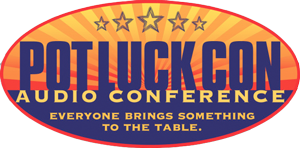 In the land of the Saguaro cactus and golden-red sunsets, hundreds of audio recording enthusiasts descended upon The Hilton El Conquistador Resort in Tucson, AZ. for the 2014 Pot Luck Audio Conference. The #potluckcon2014 has been around for several years, and this year Audio Perception decided make the trek to Tucson to attend. The event includes a wide variety of informative panels and discussions, opportunities to speak directly with several pro audio manufacturers and to hear demos of some incredible audio gear, as well as the chance to meet and network with other musicians and audio engineers from all over the country.
The Conservatory of Recording Arts and Sciences, one of the premier sponsors, had a noticeable presence at the event. CRAS brought their new sports broadcast AV trailer, which is used for educating students about live broadcast sound. It is an impressive combination of a classroom and a remote broadcast control room, with a top-notch array of equipment one would find in real-world situations. Audio and video was run from the truck to the resort over a single ethernet cable run. Cameras were setup in many of the meeting rooms, and parts of the event were broadcast to various televisions throughout the hall, and the main auditorium.
The crew of Audio Perception enjoyed several panel discussions on room acoustics. Panelists included such luminaries as Russ Berger (Russ Berger Design Group), Carl Tatz (Carl Tatz Design), Wes LaChot (Wes LaChot Design Group), and John Calder (Acoustical Surfaces, Inc.). The acoustics conversations were very informative, offering different perspectives from years of experience.
Other notable panelists at #potluckcon2014 include Leslie Ann Jones (Recording and Scoring at Skywalker Sound) and Andrew Scheps (Producer/Mixer/Engineer). Manufacturers in attendance include JBL, Manley Labs, Audio-Technica, Purple Audio, Mojave Audio, Apogee, API, Retro, Royer, Little Labs, Solid State Logic, PreSonus, Focal, Rupert Neve Designs, and more.
Overall, It was in exciting, fun filled and informative weekend at #potluckcon2014. We at Audio Perception look forward to attending it again in 2015.
http://www.potluckconference.com
Russ Berger Design Group
http://rbdg.com
Carl Tatz Design
http://www.carltatzdesign.com
Wes LaChot
http://weslachot.com
John Calder
http://www.acousticalsurfaces.com
Andrew Sheps
http://www.allmusic.com/artist/andrew-scheps-mn0000035504/credits
Leslie Ann Jones
http://www.skysound.com/bio/lajones.html