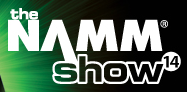 From January 23rd through the 26th, almost 100,000 attendees will descend upon the Anaheim Convention Center in sunny Southern California to attend the annual NAMM Show. With over 1,000,000 square feet of space, you'll find an immense assortment of musical instruments and audio equipment from thousands of manufacturers, as well as countless rooms for lectures, demonstrations, concerts and meetings. You'll often hear attendees from the east coast talk about the cold weather they left behind while basking in the warmth of SoCal winters.
The NAMM show is the premiere event for manufacturers and dealers in the United States. It's where dealers and resellers from all over the country get to see all the new gear for the year, and where they'll place orders to stock up on inventory. At the NAMM Show, you'll also find numerous panels and presentations for retail salesmen to hone their sales skills, and learn more about the instruments and equipment they sell.
While strolling around the huge convention center, it's not uncommon to see a variety of famous music artists and musicians, who my just be in attendance to enjoy the show, or they may be there to do demonstrations or concerts.
We attend the show to see what companies like MOTU, AVID, Steinberg, Apple, and many other companies and developers relevant to our clientele, have in the way of new gear and software, etc. We also like to have some in-person time with the many contacts we have at various audio and music equipment related companies.
The 2014 NAMM Show was quite eventful. We wandered the Convention Center floor for three days, exploring the event, meeting with old friends and making some new ones, checking out the latest studio gear, and eating too much rich and spicy food. By Sunday, our feet were begging for mercy. It was another great NAMM Show event!
Until next year!