ALIBI-Hunny Bunny Track Used In Purina Beneful Commercial
"

Yes, I want to eat!," is what the cute little dog says with a New York accent, as he's jumping up and down awaiting a delicious meal of Purina Beneful Chopped Blends in a national television commercial.

Accompanying the visuals is an instrumental track composed and recorded by Audio Perception's Jason Atkinson. Licensed through the Alibi Music Library, "Hunny Bunny" is a bouncy, piano driven instrumental that fits perfectly with the energy of the commercial.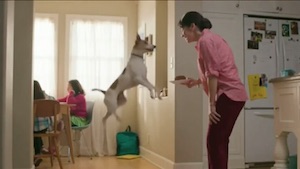 The music plays through the entirety of the 30-second advertisement. "It's always exciting hearing music I've written show up in a commercial like this," says Jason, who continues to compose more tracks for Alibi Music as well as other music libraries. Click here to listen to the "Hunny Bunny" track or click here to see the commercial.
Facebook - alibimusiclibrary
Alibi Music Library - Track Details