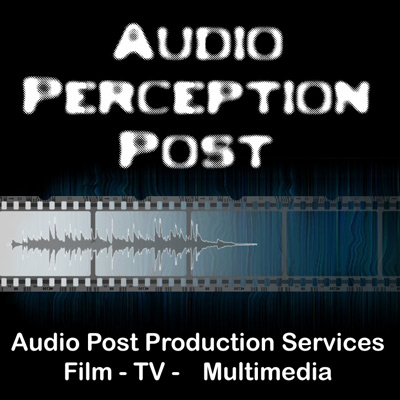 Click "here" to see Audio Perception Post's clients and services
Some of our many TV, Film, and Video Game composer clients:

David Schwartz- Arrested Development,Northern Exposure
Anton Sanko- The Possession, Big Love
Christopher Tyng- Futurama, Suits, Rescue Me, Knight Rider
Bruce Miller- The Odd Couple, Frasier, Wings
Kim Planert- Castle, The Whispers
Ben Decter- Extant, CSI: Cyber
Daniel Licht- Dexter, Hellraiser: Bloodline
Trevor Wayne Howard- Drop Dead Diva, White House Down
Josh Kramon- Veronica Mars, Big Shots, Kevin Hill
Rick Marvin- Grimm, Without A trace, The O.C.
Transcenders- Outsourced, Gossip Girl, Emily Owens M.D.
Jan Stevens- Scrubs, Samantha Who?
Joel Goodman- Being Elmo, Children Underground, $ellebrity
Ray Colcord- Melissa and Joey, Boy Meets World, Facts of Life
Dominic Messinger- Intervention, One life to Live, Santa Barbara
Steve Bramson- The Nine, Jag, Journeyman
Elia Cmiral- Atlas Shrugged, Piranha 3DD, Species III
Jack Wall- Lost Planet 3, Call of Duty: Black Ops II
Joel Douek- Galapagos 3D, Kingdom of Plants 3D, Chaotic
Kerry Muzzy- Glee, So You Think You Can Dance, The Unforeseen
Bruce Healey - A Capital Fourth, The 66th Annual Academy Awards
Danny Pelfrey - Star Trek, Spin City, Strong Medicine
Mark Cross - Last Comic Standing, HBO, MTV
David Baerwald - The Client List, Life Unexpected, October Road
Richard Gibbs - Battlestar Galactica, Queen of the Damned, I Spy
Ed Alton- Whitney, My Boys, Kevin Hill
James Stemple- JAG, Batman, The Pink Panther
Joe Alfuso- Disney, Universal, Disneyland
Jeff Fayman- Immediate Music
Cory Lerios - The Land Before Time, Bay Watch, Kim Possible
Michael Wandmacher- Madagascar, Over the Hedge
Joey Newman- Little People, Big World, Providence, The Middle
Martin Davich - Sweetwater, E.R., Third Watch, BH 90210
Jeff Cardoni- Undercover Boss, CSI Miami, Entourage, Just Friends
John Frizzell- Texas Chainsaw 3D, The United States of Tara

Artists, Producers, or Songwriters that we have worked with:

Frank Simes - Musical Dir/Prod: The Who, Rod Stewart, Don Henley
will.i.am - Artist/Prod/Voice Actor/DJ: The Black Eyed Peas, will.i.am
Jeff Russo - Songwriter/Artist: Tonic
Alex Band - Artist/Singer: The Calling
Matt Sorum - Artist/Prod/Drummer: Guns and Roses, Velvet Revolver
Soulshock - Songwriter, Prod The X Factor, Usher, Sting
Lisa Loeb - Songwriter/Artist
Garry Beers - Bass Player for INXS
Sophie B. Hawkins - Songwriter/Artist,/Producer
James Michael - Songwriter/Producer, Singer in Sixx:A.M.
Van Howes - Prod/Engineer - Nickelback, Daughtry, Puddle of Mud
John Barnes - Prod/Engineer - Michael Jackson, Quincy Jones
David Baerwald - Prod/Songwriter - David and David, Sheryl Crow
Robert Haas - Artist/Producer/Songwriter: Red Siren, All is Forgiven
Josie Cotton - Artist/Producer/Songwriter, Owner Kitten Robot
Tyler Hilton - MCA Recording Artist
Shane Gaalaas - Producer/Songwriter/Artist, Drummer for the B'zs
Geza X - Producer/Artist: Meredith Brooks, Dead Kennedys
Carl McGregor - Producer/Songwriter: HBO, Showtime, K-Ci & JoJo
Jeffrey Osborne - Recording Artist: On the Wings of Love
Paul Cotton - Artist/Songwriter: Poco
Lao Tizer - Recording Artist
Cory Lerios - Artist/Songwriter/Composer: Pablo Cruise
B'z - Japan's biggest band, 80 million records sold
Curt Harpel - Songwriter/Producer
Michael Monarch - Recording Artist: Steppenwolf
Jim Kaufman - Recording Artist: Opiate For The Masses
John Deaver - Studio Owner
Rod Stewart - Recording Artist
Sean "Diddy" Combs' - Recording Artist
Kevin Debrow - Quiet Riot
Chester Bennington - Recording Artist: Linkin Park
Jonathan Davis - Recording Artist: Korn
David Tickle - Producer: Sting, U2, Police
Nick Carter - Recording Artist: Back Street Boys
Jack Casady - Recording Artist: Jefferson Airplane
Scott Weiland - Recording Artist: Stone Temple Pilots, Velvet Revolver
Trevor Horn - Producer/Artist/Songwriter: Yes, Buggles


Music Libraries, Retailers, Artists, Schools, and other cool people we have worked for:

DGA - Directors Guild of America
Esquire - Studio in the 2010 "Bachelor Pad of the Year"
House of Rock - Studio Design/Integration for the 2012 HOR studio
Post Modern Group - Studio and wiring design/install/integration
Alibi Music Library - Production Music Library for film, TV
Samuel Bayer - Director, Cinematographer, and Visual Artist
Notre Dame High School - NDHS's TV Production Department
Beyond Music - Production Music Library for film, TV and more
Musikvergnuegen - Orginal Music / Jingle house
Lisa Jaime - Music Editor: Promised Land, Rock of Ages, Hairspray
Lussier - TV Promo House: ABC, CBS, Disney, Spike
Michael Haussman - Director, Writer, Producer and Artist
Kent Gibson - Owner: Soundesign Audio Post
Human World Wide - Orginal Music / Jingle house
Webb Weiman - Post Production Supervisor: Project Runway
Famous Radio Ranch - Voice Over Studio
Methodic Doubt - Production Music Library for film, TV and more
Scott Schirle - Music Editor: Cult, Chuck, The O.C., Grimm
Futurama - TV Series
Hieroglyphic Prod. - Audio Post House
Yahoo - Live Music Division
Disney
The Art Institute of PHX - Media Production Department
Mount St. Mary's College
CBS Records
Vintage King
Guitar Center & GC Pro
West L.A. Music
R.S.P.E.

Audio Perception Post provides a full array of audio post production, music, and audio support services for independent film makers, festival films, features, and projects for TV and cable. Along with a full array of audio post sound services, we work with an exceptional group of industry professionals to offer pre-production audio consulting or production sound at the start of your project in addition to music supervising and music editing. With our network of talented composers, we can create the perfect original song or a complete score to finish the job.
Click on a picture below to see more about our clients